www.learnthebodhran.ie
New Intermediate/Advanced Course Now Added!!!
Click the Play button below to view The Promo Video & Start your Bodhran journey here today
with Siobhán O'Donnell
Sign Up Now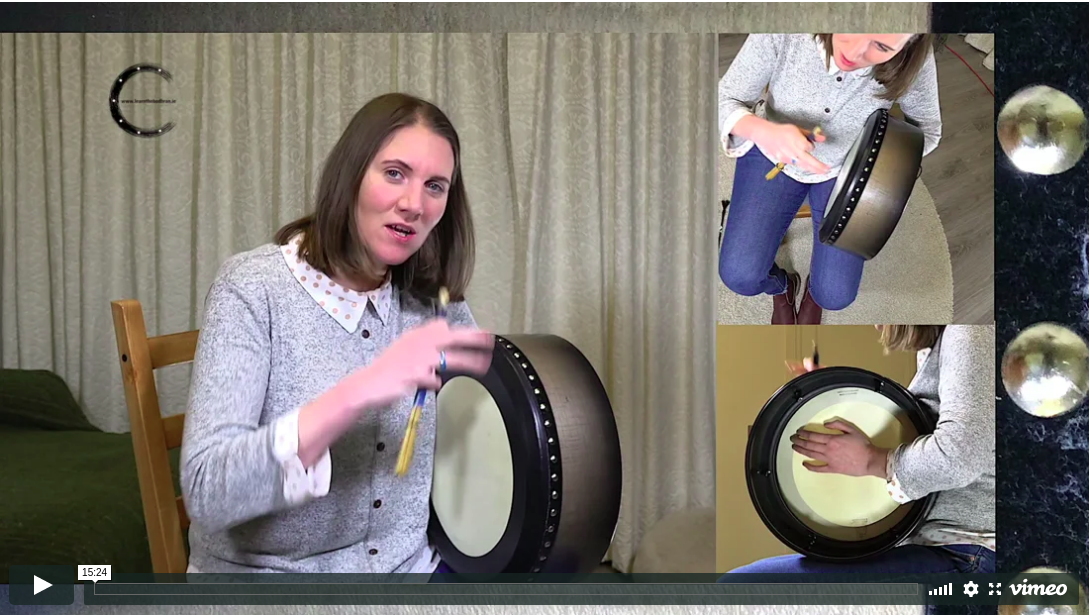 "

I first met Siobhan at a Bodhrán festival in Inisheer- I was inspired by her teaching style and passion for music, her enthusiasm for the instrument is beautiful...I would recommend this course!!!

"
Kirsty Hannon, Wexford.
More About Siobhán...
"

Siobhan was incredibly welcoming and made playing the bodhran fun and enjoyable. Because Siobhan was such a great teacher, I brought her to the US to do a week long residency with my Fourth and Fifth grade students. They had such a marvelous time learning how to play the bodhran! She took technical concepts and presented them in a simple way, which is just what my students needed. I would wholeheartedly recommend Siobhanteacher, whether in person or online. I will use her online instruction with my students in the future.

"
Cara Rogers.
Elementary music teacher in Tennessee, USA
The Lessons
All lessons are structured to help the Student develop their Bodhran playing skills at their own pace & without pressure.
Video Lesson
The main lesson content is delivered by Video. Watch & play along with Siobhán as she walks you through each lesson.
Slow down playback speed & loop sections of lesson to suit your abilities.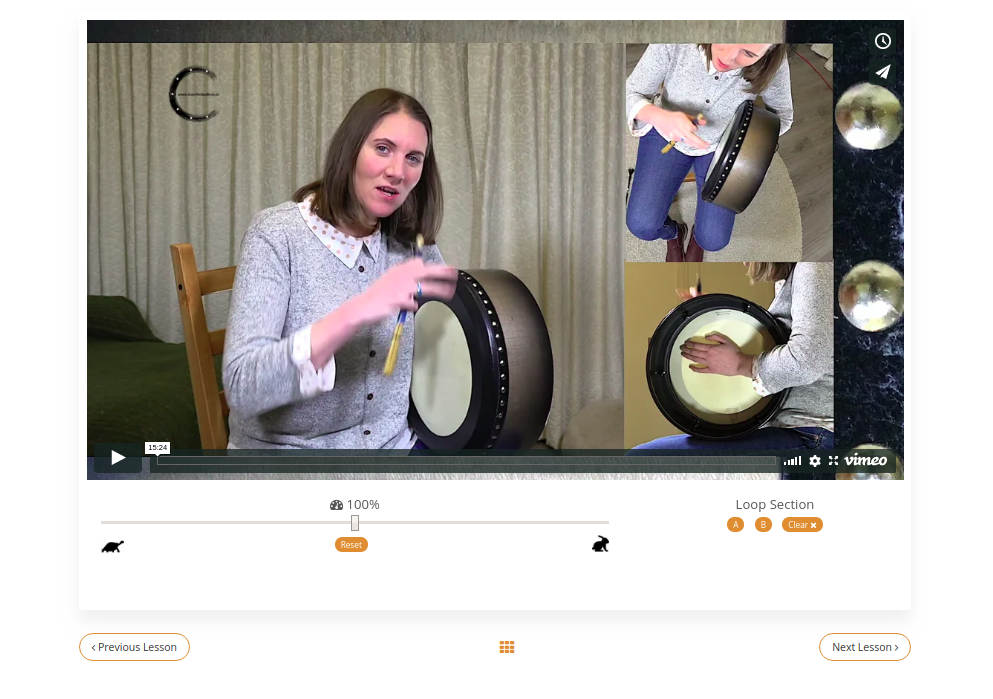 Controls
All lessons can be slowed down/speeded up to suit your ability. Sections can also be selected to 'loop'.
Finding Your Perfect Plan
There are 2 courses with plans tailored to suit your needs.
Beginner/Novice Plans
Beginner/Novice
Monthly Payment Plan
€
25
Lifetime Access with 6 Monthly Payments
UNLIMITED access
Video Lessons
Practice Tips
Access to private Facebook Group
Sign Up now
Beginner/Novice
Lifetime Access
€
125
Lifetime Access
UNLIMITED access
Video Lessons
Practice Tips
Access to private Facebook Group
Sign Up now
Intermediate/Advanced Plans
Intermediate/Advanced
Monthly Payment Plan
€
30
Lifetime Access with 6 Monthly Payments
UNLIMITED access
Video Lessons
Practice Tips
Access to private Facebook Group
Sign Up now
Intermediate/Advanced
Lifetime Access - Intermediate Course
€
150
Lifetime Access
UNLIMITED access
Video Lessons
Practice Tips
Access to private Facebook Group
Sign Up now